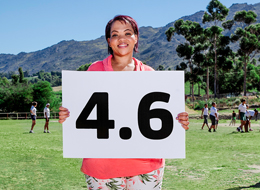 Age: 35
From: Villiersdorp, South Africa
Profession: Community Worker
| | |
| --- | --- |
| Cholesterol Before | Cholesterol After |
| 6.4 | 4.6 |
35, Villiersdorp, South Africa
Sophie's story
Sophie Hendricks is 35 years of age, a student and community worker who loves to dance. She is married with four children and loves spending time with her friends. Having such a busy lifestyle; balancing studies, work, family and friends, Sophie didn't really have the time to stop and think about her health.

Thanks to Flora, Sophie had the opportunity to participate in many different activities, and participate she did! She attended all of the activities, and with a healthier diet using Flora Pro-activ*, Sophie decreased her cholesterol level. She's excited to actively continue her healthy streak with her family.

*Flora pro-activ contains plant sterols. Plant sterols have been shown to lower blood cholesterol. High cholesterol is a risk factor in the development of coronary heart disease. Consuming 1.5-2.4g of plant sterols per day can lower cholesterol by 7-10% in 2-3 weeks when consumed as part of a healthy diet and lifestyle with sufficient fruit and vegetables.
Sophie's diet
With such a busy lifestyle, Sophie has never been able to step back and focus on her health. Armed with knowledge, she is now able to implement everything she's learnt through this challenge at home for her family.
Sophie's favourite cholesterol lowering recipe
A great recipe for a family with Flora Pro-activ is Tuna and Pasta Bake, filled with sliced carrots and tuna, topped with slivered almonds and breadcrumbs
Sophie's favourite cholesterol lowering recipe
Tuna and Pasta Bake
Preparation Time: 20 mins
Cooking Time: 20 mins
Serves: 4-6
Course: Main
Main Ingredient:
Sophie's exerciseSophie attended all the activities, including walks, cardio session, cooking classes and the sokkie evening.
BenefitsThis challenge has helped push her to kick-start a healthy lifestyle, to be at her fittest so she can be a good mother to her children. She has also implemented a lot of what she learnt in her home so that the rest of her family can benefit.
Exercise tipsAttending a sokkie is a great way to exercise and have fun at the same time, so it's always good to find creative ways to exercise.