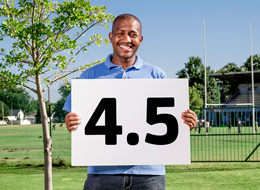 Age: 40
From: Villiersdorp, South Africa
Profession: Policeman
| | |
| --- | --- |
| Cholesterol Before | Cholesterol After |
| 7.0 | 4.5 |
Sidney
40, Villiersdorp, South Africa
Sidney's story
Sergeant Sidney Ntantiso, who's part of the Villiersdorp police and a boxing coach, has always been fit. But after he had his cholesterol checked, he realised that he wasn't as healthy as her thought he was. Sidney is 40, with a supportive wife and three daughters.

Flora has helped this fit policeman become more aware of his food intake and reduce his cholesterol level. His wife, Fezeka, got such a big shock when she learnt about his results, that she introduced healthy changes at home. This included adding Flora Pro-activ* to their meals and avoiding sugary drinks, so that they can be good role models for their children.

*Flora pro-activ contains plant sterols. Plant sterols have been shown to lower blood cholesterol. High cholesterol is a risk factor in the development of coronary heart disease. Consuming 1.5-2.4g of plant sterols per day can lower cholesterol by 7-10% in 2-3 weeks when consumed as part of a healthy diet and lifestyle with sufficient fruit and vegetables.
Sidney's diet

Sidney was never really unhealthy, but he enjoys indulging, especially when it comes to red meat. He says that he thinks all the baaivleis over the December holidays could have caused his cholesterol to increase.
Sidney's favourite cholesterol lowering recipe
Sidney loves this red meat, yet health-conscious, recipe of Moroccan Lamb with Prunes, Almonds and Couscous.
Sidney's favourite cholesterol lowering recipe
Moroccan lamb with prunes, almonds and couscous
Preparation Time: 15 mins
Cooking Time: 1 mins
Serves: 4
Course: Main
Sidney's exerciseSidney is mostly fit from being an active sergeant at the Villiersdorp police. But he also coaches boxing, and gets involved to box with his students.
BenefitsHe has been able to become the role model he wants to be for his family, and better his health at the same time.
Exercise tipsAfter training, Sidney goes for a 10-Km run as well, a great way to get fit. Set a goal, like the Comrades Marathon, and start training towards it.