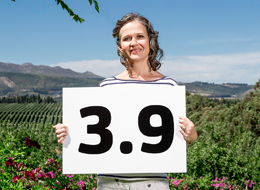 Age: 41
From: Villiersdorp, South Africa
Profession: Housewife
| | |
| --- | --- |
| Cholesterol Before | Cholesterol After |
| 5.7 | 3.9 |
41, Villiersdorp, South Africa
Janita's story
Janita is a 41-year-old housewife, happily married with three children. She says that she and her husband have never had their cholesterol tested before, and with Flora's convenient method, they didn't have an excuse. After realising she and her husband, both, had high cholesterol levels that it was time to act.

Thanks to all the activities in the Flora 21 Day Cholesterol Challenge, along with a healthier diet of Flora Pro-activ* she reduced her cholersterol level from 5.7 to 3.9 only midway through the challenge. Well done Janita!

*Flora pro-activ contains plant sterols. Plant sterols have been shown to lower blood cholesterol. High cholesterol is a risk factor in the development of coronary heart disease. Consuming 1.5-2.4g of plant sterols per day can lower cholesterol by 7-10% in 2-3 weeks when consumed as part of a healthy diet and lifestyle with sufficient fruit and vegetables.
Janita's diet

Janita says that being a housewife, she has time on her hands, so is always happy to whip something up in the kitchen for her family to enjoy. She will definitely always be using Flora Pro-activ with their meals to keep her family healthy.
Janita's favourite cholesterol lowering recipe
With kids in the house, it's always good to make something healthy that appeals to them too. A scrumptious recipe to try out is Chicken and Pineapple Kebabs on Rice, with healthy Flora Pro-activ.
Janita's favourite cholesterol lowering recipe
Chicken 'n Pineapple Kebabs on Rice
Preparation Time: 15 mins
Cooking Time: 25 mins
Serves: 4
Course:
Main Ingredient: Chicken
Janita's exerciseJanita loved the exercises and participated in all the activities Flora arranged for the challenge. She's going to continue on with the daily walks along with some of the residents of Villiersdorp and sign up for aerobics for the rest of the year.
BenefitsShe loved the social interactions with fellow residents who are all working towards the same goal of being actively healthier. Janita also hopes her positive attitude, along with the tips she learnt on healthy living will motivate her entire family to make the changes too.
Exercise tipsWhen you have time on your hands, it's easier to fit in physical activities. However, if you want to make small changes too, start off by doing one small thing at a time.