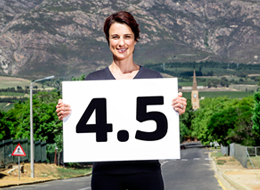 Age: 41
From: Villiersdorp, South Africa
Profession: Stay-at-home mom
| | |
| --- | --- |
| Cholesterol Before | Cholesterol After |
| 5,3 | 4,5 |
41, Villiersdorp, South Africa
Heidi's story
Heidi is 41, a mom of two and loves her family. She does boxing at a gym, cardio exercises and eats relatively healthy at home. However, even though she's quite active and slim, her cholesterol level reading was higher than what she thought it'd be.

Flora helped motivate Heidi to make small changes at home, from adding Flora Pro-activ* into her daily diet, not missing breakfast to rethinking a second piece of chocolate. Her domestic worker, Annie Swarts has also been motivated to do the same, both reducing their cholesterol levels to be healthier individuals.

*Flora pro-activ contains plant sterols. Plant sterols have been shown to lower blood cholesterol. High cholesterol is a risk factor in the development of coronary heart disease. Consuming 1.5-2.4g of plant sterols per day can lower cholesterol by 7-10% in 2-3 weeks when consumed as part of a healthy diet and lifestyle with sufficient fruit and vegetables.
Heidi's diet

Heidi used to skip breakfast in the mornings, but now she makes a point of eating a meal to kick start her day. She has also changed her family's eating habits, making instant oats for porridge in the morning.
Heidi's favourite cholesterol lowering recipe
Heidi exercises a lot, so she enjoys foods that provide energy, such as Banana, Cinnamon and Walnut Crumpets that's topped off with 5g of healthy Flora Pro-activ.
Heidi's favourite cholesterol lowering recipe
Banana, Cinnamon & Walnut Crumpets
Preparation Time: 10 Mins
Cooking Time: 10 Mins
Serves: 1
Course: Breakfast
Main Ingredient: Whole Wheat Flour
Heidi's exerciseHeidi does boxing twice a week at gym, as well as cardio exercises like running and cycling three times a week. She also has a home gym, consisting of weights, a treadmill and a trampoline. Annie, has also made some changes, and walks before going to work, and plays netball on the weekends.
BenefitsThe small changes, made such a big difference, especially if you have someone doing it with you. Heidi and Annie, have both decreased their cholesterol levels, and are aware of what they should avoid to maintain their healthy state.
Exercise tipsIt's important to exercise, but if you're not a fitness bunny like Heidi, try out some creative ways to exercise.