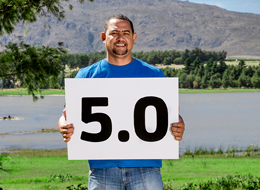 Age: 40
From: Villiersdorp, South Africa
Profession: Self-employed Contracts Manager
| | |
| --- | --- |
| Cholesterol Before | Cholesterol After |
| 5.4 | 5.0 |
40, Villiersdorp, South Africa
Burchell's story
Burchell Kock is a happy husband, married to a supportive wife and has three children. Burchell works for himself as a contracts manager and is often on the road, even though work is going well he has found it difficult to consider his health with his routine. Burchell's wife tried to help push him into taking care of his health.

Burchell wanted to prove to his wife that she didn't have to be concerned, and got his cholesterol tested with Flora. However, after seeing his results, he signed up for the Flora 21 Day Cholesterol Challenge, realising that he needed to make a change with Flora Pro-activ*.

*Flora pro-activ contains plant sterols. Plant sterols have been shown to lower blood cholesterol. High cholesterol is a risk factor in the development of coronary heart disease. Consuming 1.5-2.4g of plant sterols per day can lower cholesterol by 7-10% in 2-3 weeks when consumed as part of a healthy diet and lifestyle with sufficient fruit and vegetables.
Burchell's diet

Due to the nature of his work, Burchell was on the road most of the time. He says that majority of his food intake were takeaways.
Burchell's favourite cholesterol lowering recipe
Burchell enjoys easy and tasty meals for the road, like a Salmon and Cottage Cheese Bagel, using Flora Pro-activ.
Burchell's favourite cholesterol lowering recipe
Salmon and Cottage Cheese Bagel
Preparation Time: 15 mins
Cooking Time: No cooking needed
Serves: 1
Course:
Main Ingredient:
Burchell's exerciseThe challenge has helped change Burchell's routine, and Flora awarded him with a bicycle. Now, Burchell actively goes to gym and rides his new bicycle with his kids.
BenefitsBurchell is a real family man, and wants to be able to provide his children with the same tools to succeed in life. He says that his family has always been the number one motivation, and being healthy plays an important part to ensure their success in life.
Exercise tipsExercise with your family. Burchell says that with his new bicycle, he can bond with his kids, while keeping the family fit at the same time. Small activities can make a huge difference.